but it sure felt nice when he was holding my hand.
(dress-H&M, shoes-Fred Flare, necklace-Forever 21)
I know I've had a post about this dress recently, but I don't think the pictures sufficed. I feel as if in these pictures, my true fashion blogger came out. Out in nature, walking, etc. IF that makes sense. Again, this dress is so easy to wear. I find myself wanting to wear it all the time!
&&&&&&
(blouse-vintage, jeans-Hollister, shoes-Fred Flare)
Man, it seems like I wear these shoes a lot! I really don't. It just seems that the days I take the pictures, I'm wearing them.. It was a dreary day. It's quite a simple outfit, but it rained all day and it called for different levels of simple blue. I realized that what was missing was a leopard bag.
Inspired by Miss Alexa Chung:
(via pleaseticklemepink)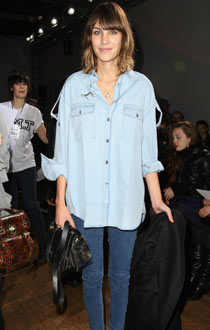 (via gardian.co.uk)
Of course, I don't have insane Chanel pumps.
0